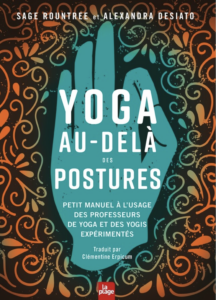 Aujourd'hui, YOGA AU-DELÀ DES POSTURES (TEACHING YOGA BEYOND THE POSES) est disponible en français ! Nous remercions Clémentine Erpicum pour la traduction. Alexandra et moi avons écrit ce livre pour que vous puissiez intégrer les élements de la philosophie de yoga à vos cours et à votre propre répétition et benéficiez d'une expérience plus profonde. Nous espérons que vous l'appréciez ! Achetez le livre ici, ou à votre libraire préférée.
Si le livre vous plaît, vous pouvez nous joindre pour un atelier (en anglais) à Kripalu Center for Yoga and Health à Massachusetts, États-Unis, ce septembre.
¿Prefiere leer en español? La edición en español es ENSEÑAR YOGA MÁS ALLÁ DE LAS ASANAS, disponible aquí!